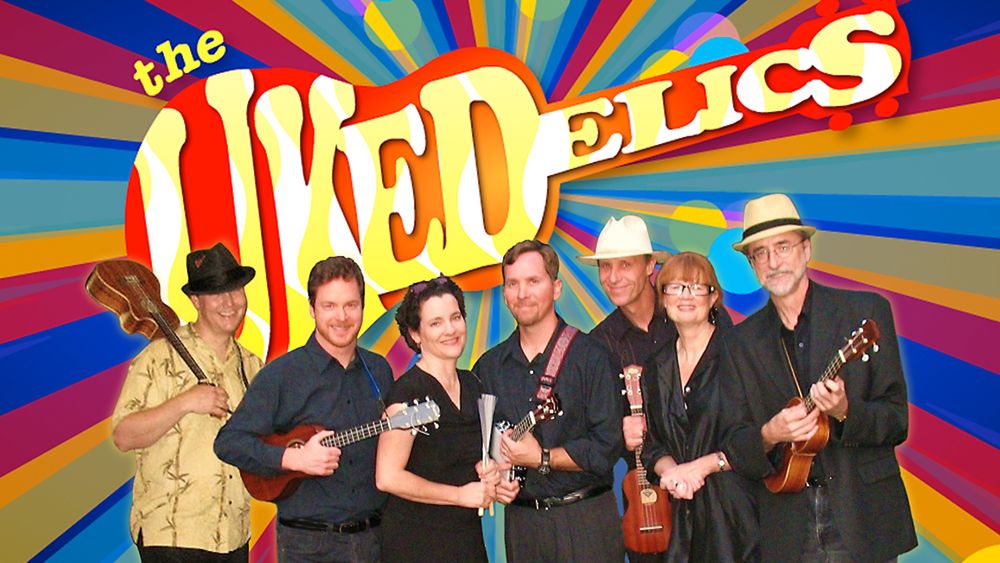 The Ukedelics
Opening for Friday Night Concert
Music City Uke Fest (MCUF) 
August 1-4, 2024 at The Factory at Franklin and the Fairfield Inn & Suites-Cool Springs
ALOHA! E Komo Mai! Welcome to our inaugural Music City Uke Fest! 
MCUF kicks off with Registration, Welcome, Opening Act & Jam Session/Open Mic at the Fairfield Inn hotel on Thursday evening, 8/1. 
The festival kicks into high gear all day and all night on Friday 8/2 & Saturday 8/3 at The Factory at Franklin with kickin' Artists: Lil' Rev, Dani Joy & Perry Stauffer, Ukulele (Greg) Gent, Tiki Dave, Art Hopkins, and The Ukedelics. Workshops, Jam Sessions, Open Mic, and a new feature…Bandscramble will delight and excite you to play on with your ukulele! Enjoy shopping for everything ukulele from our Vendors and get your raffle tickets early for chances to win amazing prizes from our Sponsors! 
Feel good festival wrap up on Sunday 8/4 morning with a Sing-a-long Jam Session/Open Mic and Closing Act will be at the Fairfield Inn hotel.
MCUF is also dedicated to support the Maui Food Bank, with 100% of donations going directly to feed those in need. We want to let folks know that though we are about 4500 miles away, we continue to stand strong with Maui in efforts to rebuild. It will be a long road to recovery, Maui remains in our hearts, and we send our love and Aloha! (Please check out the Maui Food Bank Charity tab, we even have a QR code for your generous contributions!) MAHALO!
Contact:
Melanie Ching, aka "UkuMele"
Email: UkuMelePresents@gmail.com